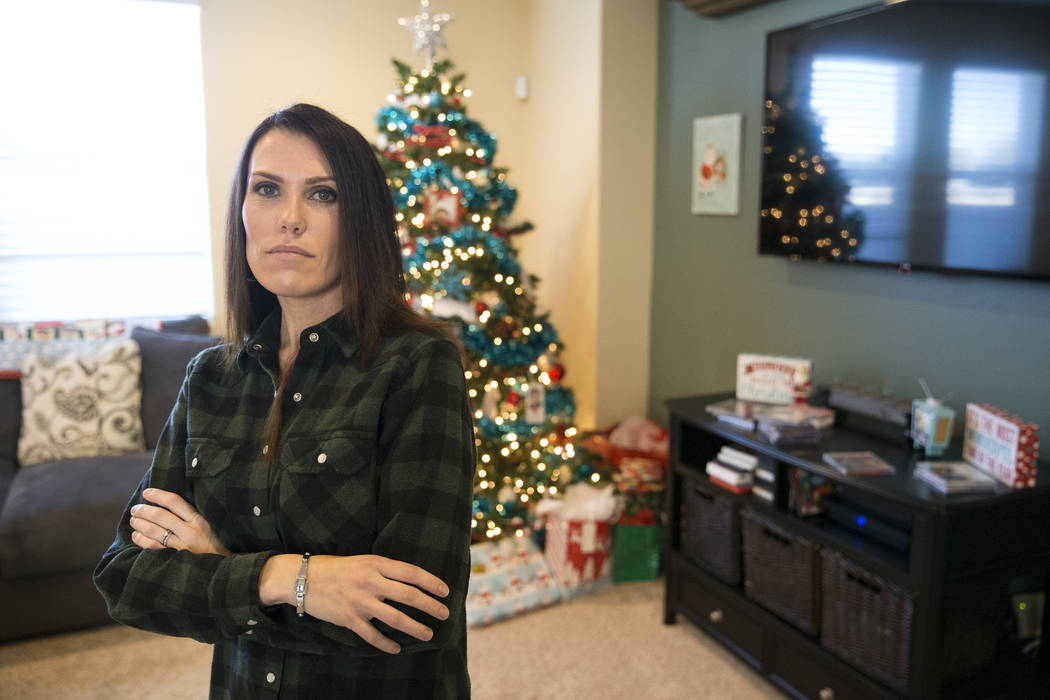 J'Anna Hendricks, who attended the Route 91 Harvest Festival, shares her story about attending the event from her Las Vegas home, Tuesday, Dec. 19, 2017. Erik Verduzco/Las Vegas Review-Journal
J'Anna Hendricks, who attended the Route 91 Harvest Festival, shares her story about attending the event from her Las Vegas home, Tuesday, Dec. 19, 2017. Erik Verduzco/Las Vegas Review-Journal
J'Anna Hendricks, who attended the Route 91 Harvest Festival, shares her story about attending the event from her Las Vegas home, Tuesday, Dec. 19, 2017. Erik Verduzco/Las Vegas Review-Journal
J'Anna Hendricks, who attended the Route 91 Harvest Festival, shares her story about attending the event from her Las Vegas home, Tuesday, Dec. 19, 2017. Erik Verduzco/Las Vegas Review-Journal
J'Anna Hendricks, who attended the Route 91 Harvest Festival, shares her story about attending the event from her Las Vegas home, Tuesday, Dec. 19, 2017. Erik Verduzco/Las Vegas Review-Journal
J'Anna Hendricks, who attended the Route 91 Harvest Festival, shares her story about attending the event from her Las Vegas home, Tuesday, Dec. 19, 2017. Erik Verduzco/Las Vegas Review-Journal
J'Anna Hendricks wanted to prove to herself that she was OK.
About two weeks after the Oct. 1 shooting, she sat down at a country music benefit concert organized for first responders like her husband, a Metropolitan Police Department sergeant.
Normally, the stay-at-home mother of three would have opted to stand close to the stage. But the Route 91 Harvest festival survivor instead settled for a seat on the upper level of the Orleans Arena, by an aisle, near an exit.
On the outside, she appeared calm. But her eyes often anxiously wandered from the stage to the crowd below her, just in case.
"Going through it, it got easier, a little bit," said Hendricks, 34, of Las Vegas. "And then Big & Rich came on."
The band was the first act Hendricks saw the night of the shooting. And at the Oct. 19 benefit concert, they came out blazing, playing the same set they performed Oct. 1.
It took only a few seconds before Hendricks was in a panic.
"It just brought back that whole night, like fast forward, leading up to it," she said.
As she shoved past the people near her and ran out of the arena, her breathing was shallow and her heart was racing.
Reliving Oct. 1
In her head, she could see how close she and her friend were to the Route 91 Harvest stage — close enough to spot Jason Aldean's cowboy boots.
In her head, she could hear the gunfire begin, then see herself drop to the ground for cover, waiting as people around her were shot.
In her head, she again felt the fear of believing she was about to die, screaming into her phone, telling her husband to tell the kids she loved them.
And in her head, she could see herself finally work up the courage to run, despite the pinging of bullets following her and the thought that, at any moment, she could collapse to the pavement, dead.
In the concourse outside the benefit concert, Hendricks' husband found her sobbing uncontrollably.
"He was like, 'You can do it.' And I said, 'No I can't. I have to get out of here. I have to leave,'" she said. "I couldn't breathe. And it was terrifying — which, there was nothing to be scared of. It was just terrifying."
Hendricks, who escaped without injury but still struggles with what she experienced, is now attending therapy once every two weeks, where she learns to work herself through panic attacks and slowly process what she experienced.
She does it for herself because she doesn't want to live in fear. And she does it for her children, whom she immediately thought of when the gunfire started.
"My oldest, a week before — because Oct. 1 was his birthday — was like, 'What's more important — your family or a stupid country concert?' Because he wanted a big birthday party," she said. "And it was a huge misunderstanding. I told him, 'Well, you guys are more important.' But all of a sudden, these shots come out, and I'm laying on this turf, and all I thought about were his words, and I'm like, 'Oh, my gosh, I chose to come here instead of being at home on the couch with my family.'"
Tribute to the victims who died.
'Stay positive'
Recovery now happens little by little, day by day. Recently, Hendricks went to the "The Beatles LOVE" show by Cirque du Soleil.
When she arrived, she noticed security wasn't checking purses or bags, which made her feel uneasy. In the theater, she kept looking around at the crowd, thinking about what could happen. But she made it through the show, which she considers a victory.
"I think it's about finding the new you," she said. "As much as I would like to get back to that girl I was — that carefree, looks-at-everything-like-sunshine-and-roses girl, because that's who I loved being — it's a process. It's 'Every day's a new day. Every day's a new thought.' And you just have to work through those thoughts and stay positive and just try."
"It was one moment," she said of the festival. "A horrible moment. But you can't let that define who you are or take away your joy."
Contact Rachel Crosby at rcrosby@reviewjournal.com or 702-477-3801. Follow @rachelacrosby on Twitter.
This content was originally published here.